Hi! I'm Paula.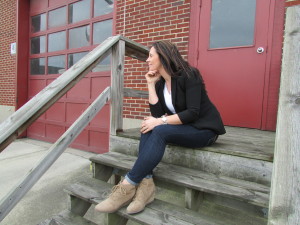 What little did I know as a small child how much brokenness could come from one family, and this family was not someone else's. It was mine. My mother raised me, but she was emotionally unavailable, because she struggled with her own addictions. My father was a raging alcoholic, whose binges kept him in and out of the home, depending on its length.
Due to all the pain I was feeling as a little girl this caused me to shut down early in life. As a result, I grew up with a lot of self-hate, abandonment, rejection, anxiety, depression, fear, anger, and hopelessness. This caused me to struggle in life, especially during those impressionable school years.
When I was 12 years old my dad went to prison and I tried many things to try and make my pain go away. I started drinking and using drugs at a very young age. I got pregnant as a teenager at the age 15 and jumped into my first gang, in hopes that someone would finally love and accept me. I developed an eating disorder that consumed and controlled my life, by calorie counting, binging and purging. But these things gave me nothing more than a temporary relief, and an addiction with body images, weight loss, and poor relationships. At 21 years old I found myself broken with 3 children and not wanting to live anymore. My pain had gotten so deep that it was unbearable.
When I was 18 years old working at a daycare, a friend of mine told me about Jesus. At that time I thought she was very weird and I wasn't ready to receive what she had to say. I mean, how could he or anyone else fix my brokenness?  One night, after being physically abused by the father of my 3 children, I ran into my closet feeling hopeless, I was ready to take my own life. I cried out in desperation, "Jesus are you real? If you are, I want to know you."  Then all of a sudden the atmosphere had changed in that little dark square and I heard the words, "Yes, I am, call out to me." I lifted my head, and wiped the tears from my eyes.  I knew at that moment something was going to be different in my life. Around this same time my neighbor would faithfully mow my lawn in an act of kindness, he had also invited me to church. While I attended a church service with him one Sunday morning, I had never heard someone preach about God and His love for us, the way this preacher did.  It caught my attention. At the end of the service, the preacher walked over to me and said, "God sees your pain, " and for the first time, I was introduced to a bible scripture, Jeremiah 29:11, "For I know the plans I have for you says the Lord, plans to prosper you and not to harm you."  To hear the words for the first time that someone didn't want to harm me?  God would not neglect or abuse me?  At that moment, I was ready to do whatever it took to know who God was.
After I received Jesus as my personal Savior, I immediately felt a shift in my heart. It was the first time I had ever felt loved, safe and accepted. And even though I had a lot of pain I had to work through, the overwhelming peace that came over me was indescribable. As I continued to grow in God's word, learning and understanding His thoughts towards me, it enabled me to start walking in His way.  That is taking many baby steps and scraping my knees. With the help of the Holy Spirit's leading and my 12 step recovery program , I started to heal, and became delivered from a lot of pain, addictions and many of my coping mechanisms.  God has taken me on a new journey of healing which led to my FREEDOM and DELIVERANCE and now I am offering hope to those who are still suffering.