A Story of redemption, healing, and hope
"I'm stupid, fat, and ugly."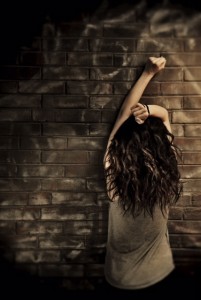 Negative voices torment us. Our pasts cause us to feel shame and guilt. We hesitate to tell our stories because of what people might think if they knew what we'd really done. This guilt and shame can even cause a vicious cycle of self-destructive behaviors that leave us feeling isolated.
Paula Jauch can deeply identify with this pain and frustration. She grew up in a home surrounded by violence, alcohol, and drugs, until her father was convicted of attempted murder and sent to prison. When she became pregnant at 15 years old, Paula's identity was shattered. She spent a lifetime searching for love and acceptance in all the wrong places. Feeling powerless, Paula spent the next decade of her life engaging in self-destructive behaviors, including abusive relationships, cutting, and a long-term eating disorder, and even gang initiation.
Paula was motivated to write her first book because an encounter with Jesus in Las Vegas changed the course of her life. She shares her personal story of healing, recovery, and how she overcame adversity. Paula's hope is to be an inspiration to those who are still struggling, and the stories and Biblical truths in this book will inspire readers to change their own lives by getting the help they need to overcome the past, addictions, or any kind of abuse and fulfill the purpose God has for their life. She is forever thankful for the love, forgiveness and healing power of Jesus Christ that restored her life and set her free.
Paula Jauch is a bible teacher, motivational speaker, and survivor. She loves motivating her audience to walk in freedom by helping them increase their faith and know the truth that will set them free. She is using her life experience to offer hope to the hurting. Previously, Paula has worked with troubled teens, abused and neglected children, and teen boy sex offenders. Paula is a happily married mother of four and a passionate lover of Jesus. She enjoys spending time with her husband and family